John M. Ross and Son, Inc.
Cemetery Management and Maintenance Services
Best Care Anywhere
Three Generations Dedicated to the Tradition of Preserving your Family History,
One Sacred Memory at a Time since 1929
HOME PAGE
CONTACT INFORMATION:
David P. McKenna, President
Eleanor F. Ross, Consulting

JOHN M. ROSS AND SON, INC
50 Buxton Road
Danvers, Ma 01923-1320
Tel. 978-774-0139
Fax. 978-762-0107
Pager 978-205-0322
email: davemckenna50@comcast.net
URL: www.johnmrossandsoninc.com
We can assist you with choosing lots at over

20 locations, at price ranges from $2000 to as
little as $800, in Orthodox, Traditional, Reformed

or Interfaith Jewish Cemeteries,with traditional

upright memorials or flat marker Memorial Parks.

Make a choice now  so you and your family can pick a spot you will all be comfortable with.
Why leave the decision to your spouse  (or children) who will have enough to deal with in his or her grief. Don't leave them with this responsibility, too, when they may be too distressed to think clearly, and may regret the spot they picked under the duress of their grief. Cremated remains CAN be interred in many of the cemeteries we serve, should you choose that option, some of them  offering lower priced plots for cremation burials. Having your cremated remains placed in a cemetery, will ensure that your children and grandchildren will have a place to visit during the High Holidays.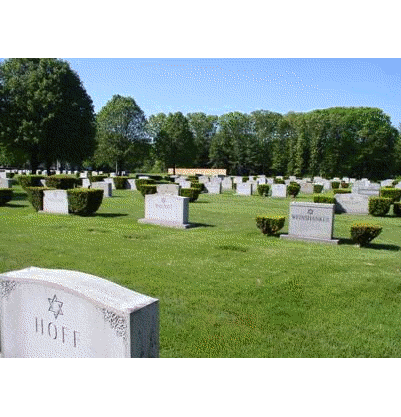 We maintain detailed records of all burials made in the cemeteries in our care since 1962, including date of death and burial, funeral director, Rabbi who officiated, monument company who made the memorial; and can obtain information on earlier burials as well. If you need assistance memorializing a Loved One's final resting place, we can assist you in choosing a monument maker, or applying for a Veteran's marker if the deceased was a Veteran

AS LONG AS WE ARE REMEMBERED, WE LIVE FOREVER